Our

services help protect your data and network, as well as your property. TruSecurity services provide PC, Data and Network Security, as well as Internet-based VIdeo surveillance of your property:
PC & Data Security: TruSecurity eliminates malware, spyware, e-mail SPAM from your PC memory, registry, hard and removable drives, helping you maintain your business or home Internet privacy. Remote PC security audits and system backup services are also provided.
Network Security: The TruSecurity wireless networks we deploy can range from "open networks" at Internet hot spots, to wireless WiFi security using WEP and the newer WPA security, to fully encrypted, HIPPA-compliant networks using Virtual Private Networking (VPN) hardware and software. Your TruSecurity network is protected by an Internet firewall to help keep your data secure.
Video Surveillance: TruSecurity for home and business also offers Internet-based video monitoring. Remote viewing and recording (either at our site or yours) allows for off-site incident capture and recording. Images are date & time stamped for accurate recovery. Some actual snapshots from our remote TruSecurity video surveillance systems are shown below: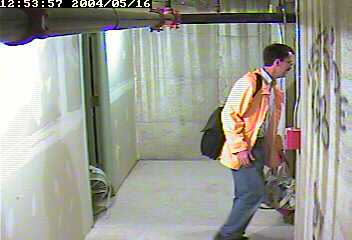 Apartment Complex Basement Storage Room Security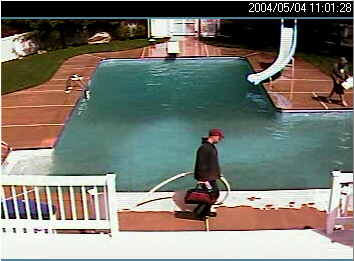 Residential Swimming Pool Opening & Safety Monitoring
 Some of the benefits of our TruSecurity IP-based video surveillance are listed below. Call us today for a detailed IP Video surveillance presentation and demonstration!

| | |
| --- | --- |
| Key Features | Benefits |
| No time lapse VCRs required | No changing tapes or loss of resolution |
| No proprietary DVRs at each site | Lower cost implementation |
| Simultaneous remote viewing | Video images anytime, anywhere |
| Multi-path access to cameras | Resilient video surveillance system |
| Improved video frame rates | Smoother video replays |
| No multiplexed TV muxing | No loss of video resolution |
| No separate AC/DC feeds | Lower cost: CAT 5 cable / wireless |
| No need for video amps on long runs | Video quality independent of distance |
| "Internet Volume" purchasing | Lower cost implementation |
| Commodity commercial hardware | Faster, easier & lower cost upgrades |

 

| | |
| --- | --- |
| Key Features | Benefits |
| Commodity PCs with Large Disks for recording  | Lower cost deployment & recording (200GB @ $115 - Jan 2005) |
| Digital Video can use existing networks | 100% compatibility with only incremental costs |
| Cable runs merged into existing lines | New runs short; lower costs; Performance @ 100% |
| Multiple cameras: Interconnected | Lower cost (labor & Material): single cable run; image stays @ 100% |
| Power over Ethernet to cameras | Lower cost & resiliency: battery back-up |
| Cat 5 cables do not require electrician | Lower costs with commodity Internet cabling |
| Highly upgradeable performance | Based on camera, network & PC |
| Surveillance redundancy | Multi-site distributed recording for resiliency |
| Unlimited recording capability | PCs support 16 Exabytes (16 Billion Gigabytes of video storage) |

 

| | |
| --- | --- |
| Key Features | Benefits |
| Image quality, type & resolution are unlimited                                              | Future Proof: Digital Image recording is software based for higher resolution |
| 100% compatible with Traditional Analog CCTV | Easy migration path to 100% digital benefits |
| Digital video is extremely secure | No analog taps; Digital image encryption capable |
| Network digital cameras are upgradeable in the field | Improved video compression; more features; remotely upgradeable for lower maintenance cost |
| Scalable solution, in increments of One | No costly step-ups at 4, 8, or 16 cameras |
| Supports wired or wireless IP Networks | Complete on-site flexibility: Police can view a building's internal cameras from their car using a WiFi wireless connection |
| Image Storage: location independent | Images are preserved off-site even if the in-building video equipment is stolen or destroyed |
| View all cameras from all sites | Escalate issues to the proper person for timely resolution |

| | |
| --- | --- |
| Key Features | Benefits |
| Images can be stored offsite | Archives are secure and accessable, even when the site is not |
| Cameras Pan, Tilt & Zoom controlled remotely | Move & Zoom cameras to see what is important |
| Video recording based on motion | Record ONLY when there is activity |
| Video recording based on schedules | Record only at the times when desired |
| Change Camera characteristics | Remotely change frame rates based on need |

"There is a new Video Standard, and it is IP"

An example of one of our TruSecurity IP Video Surveillance architectures is shown below:

 What sets our TruSecurity service apart from the competition:

Multi-Vendor hardware and software support

Combined Data and Physical security

Scalable solution, one camera at a time

Remote management of Video infrastructure

Compatible with existing surveillance systems

Secure, Robust, Scalable, IP-based Video Architecture

Highly Cost effective for the client

Call us today for a detailed IP Video surveillance presentation and demonstration!
TruConnections Inc., P.O. Box 737, Londonderry, New Hampshire 03053-0737   Telephone 603-434-5548 - Fax 603-426-5263